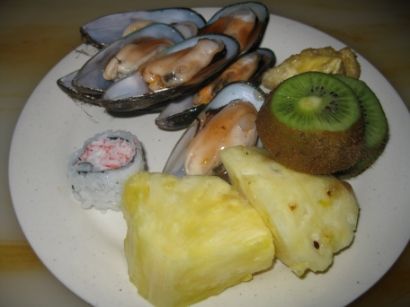 It's easy to get off track with
dieting
. You may sometimes go to a buffet restaurant and see all kinds of delicious food not healthy for you. Temptation kicks in. Pizza, fried chicken wings, sugary filled dessert, fried rice, and other forms of greasy food you love indulging in time to time tempts you as you try to ward off the feeling of giving in. Healthy selections of the right foods are nearby.
If you're striving for excellence to get back on track with
eating
the right foods to nurture your body and stay on track with your
workout goals
, here's a quick short list of choice healthy foods to eat while enjoying yourself at any hibachi buffet restaurant:
mussels
oysters
clams
lettuce and tomato
sushi
steamed vegetables
hibachi chicken
shrimp
Salmon
tofu
fresh sliced fruit
spinach
grilled pollock
grilled chicken in black bean sauce
Turkey
Tilapia
steamed hibachi rice
cucumber
Any hibachi restaurant allows customers to customize a salad. You can get pretty creative and add cucumber, tomato, sliced mushrooms, sunflower seeds, and even dress your salad with low calorie ranch salad dressing, Italian, French, or blue cheese salad dressing. Your portion size plate be anything from portion sized salmon, pollock, [grilled chicken in black bean sauce] with vegetables as a side, grilled tofu, or have a personal meat grilled for you such as teriyaki steak or teriyaki chicken sticks.
There's more creative ways which are too much to mention to put together a healthy hibachi lunch or dinner when dining at any hibachi restaurant. Just because it's a buffet restaurant doesn't mean you have to go there and stuff your face. Right? That said, strive daily to make healthy changes and never give up in your
transformation to lose weight
, make a positive difference in the lives of others, strive daily to become and stay humble servant, lifting others up continuously towards greatness without expectation. Stay tuned for more creative and helpful tips on the topic of "healthy eating at hibachi buffet restaurants."